Hey there and welcome to my French Bulldog owners and lovers blog.
My name is Thierry and I own a Frenchie of course, she is my little bundle of joy and her name is Kitty (from Hello Kitty, my oldest daughter got to pick the name 😆)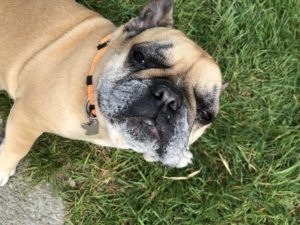 We originally had 2 Frenchies but one died of a heart attack in the middle of the summer, she was playing in the garden and from one moment to the next she fell down and never got back up again 🥺.
I started this blog to share stuff I have learned along the way from puppy to adult Frenchie, to share with everybody who has certain questions and is looking for answers.
I have searched the web several times in the past looking for an answer to a particular question, but some questions remained unanswered and that is why I started this blog.
I hope you enjoy your time here and if you ever need help or want to chat, just go to the contact page and send me a message.
That's all, keep your Frenchie happy,
Thierry
Here are a couple more pictures of Kitty: