Hey there, and welcome to my French Bulldog owners and lovers blog.
My name is Melissa, and I own a Frenchie of course, he is my adorable little buddy, and his name is Charlie.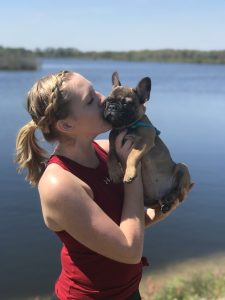 I came across this breed while I was in college. I loved big dogs but knew I could not keep a big dog in a small apartment. After some research, I found myself obsessed with French Bulldogs, who have big personalities in little bodies. Finally, four years later, right before I graduated Nursing school, I brought home, Charlie. We have been best friends ever since.
I started this blog to share what I have learned along the way raising a puppy to an adult Frenchie. In the past five years of raising Charlie, I have learned a lot about the French Bulldog breed. I have had many questions through the years about this unique breed and am lucky enough to have had great resources such as other Frenchie owners, dog trainers, and talking to vets that have been able to guide me. I have gained a lot of knowledge on the adorable Frenchie breed and would love to share it with all French Bulldog lovers.
I hope you enjoy your time here, and if you ever need help or want to chat, just go to the contact page and send me a message.
That's all, keep your Frenchie happy,
– Melissa
Here are a couple more pictures of Charlie: