I can already hear you thinking: "Every dog ​​can swim instinctively, right?" This is not always the case with a French bulldog. Most of them do like to have a nice bath, though! And what if your Frenchie wants to go into the water? Then a special life jacket offers a solution!
A French Bulldog definitely loves water, but most bulldogs can't actually swim. A bulldog can bathe well, and even going a little further into the water can go well, as long as he can stand on the bottom with his feet. However, real swimming, in which the dog no longer touches the bottom with its paws, is not reserved for all Frenchies.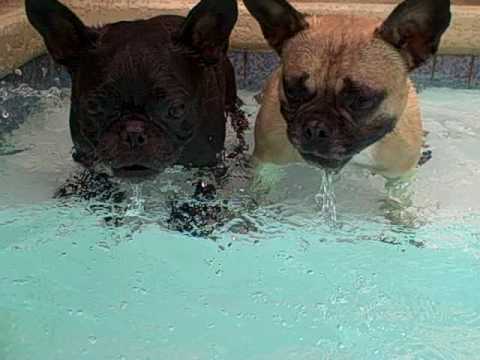 It is the physique of a French bulldog that causes the problems. A French bulldog is much heavier in the front than in the back. Due to the heavier weight at the front, a French bulldog can keep swimming straight ahead only very briefly. They often get into trouble when they want to make a turn, then the heavier weight at the front makes them tilt and go under. If the French bulldog's head goes down, he cannot get himself above the surface of the water, and you have to be quick to get him out of the water.
For example, if you would like to go for a walk with your Frenchie on the beach, it is advisable to keep him on a long line so you have control over how far he goes into the water. To ensure that your Frenchie does not drown when he enters deep water, life jackets are available.
A life jacket, I hear you say?
For dogs, there are specially developed life jackets that ensure that the dog floats when it ends up in deep water. If the dog floats, you can easily pull it out of the water using the handle on top of the vest. This way, your Frenchie can swim nicely, and you don't have to worry or even fear for its life!
Best Life Jacket for French Bulldogs
Below you see life jackets that are suitable for French bulldogs:
Our Pick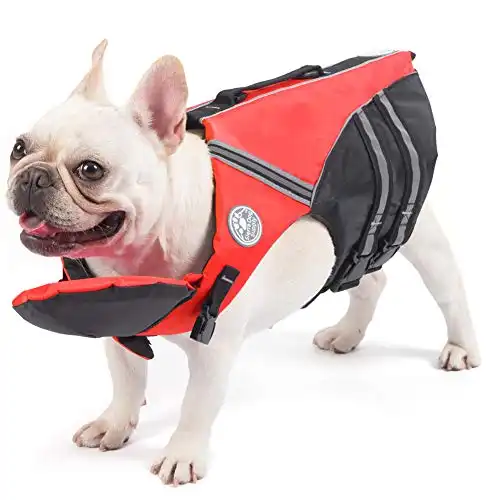 This is how you choose the right size (including size chart)
A suitable dog life jacket depends on the weight, length, and size of the dog.
If a life jacket is not in the right position, it can irritate the dog and not work properly, just like a dog harness.
If the lifejacket is too large, it can slide off the dog, but even if it is a bit too loose, it may be that your French bulldog is not keeping his head sufficiently above water, which means that it still needs to swim at full power.
That is why it is important that a dog life jacket fits well on the chest, on the back, and under the armpits.
The color of a life jacket is also important.
You want you to see the dog as good as possible and that he is as visible as possible to others.
Therefore always choose a life jacket in a bright color.
There are also dog life jackets with reflective strips, making the dog even better visible at dusk (or dawn if you are an early bird).
Finally, it is important that there is a handle on top of the life jacket that you can use to lift the dog out of the water when needed.
With life jackets, sizes are usually indicated, but it is smart to measure the chest size and back length of your Frenchie so that you are sure that the life jacket fits.
In general, you can use the following size chart: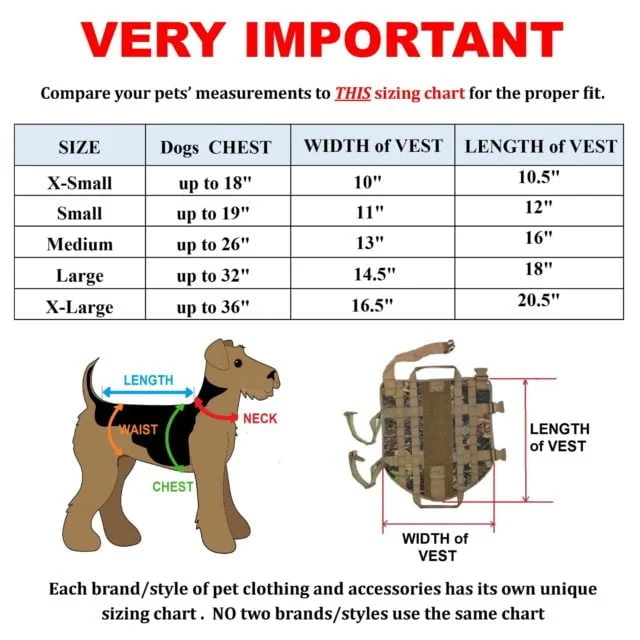 Note: The above table is a general-size chat. Often it is stated on the page of the product how you can determine the size for that specific dog life jacket. For French bulldogs, it's usually size S, but every manufacturer has little variations, so be sure to size your Frenchie correctly so it stays fit when letting him in the water.
This is how you teach your Frenchie to get used to the life jacket.
If he has not had a life jacket on before, he will not immediately like to wear a life jacket.
Some dogs don't care, and others find it terrible again.
You can playfully introduce your Frenchie to the dog life jacket.
First, make sure that the dog has already seen the life jacket, for example, by picking it up a few times and placing it near the dog.
Never force on the life vest.
This can cause the dog to be afraid of the life jacket, and he will likely never "trust" it again.
It is better to let the dog stick its head through the life jacket with a cookie.
If he does this well a few times, you can reward them and then extend the exercise by attaching the life jacket and then releasing it again.
If this goes well, you can expand the exercise by letting your French bulldog wear the life jacket longer and longer.
After multiple training sessions, he will automatically run away with it.
By allowing the dog to get used to it, he discovers that he can still do anything with a life jacket on.
If your French bulldog has already had clicker training, you can use the clicker to teach it even faster.
What to do if your Frenchie falls into the water?
If your dog falls into the water, it may panic (even if it can swim well). The ground can also be too high to climb, as you often see in harbors. But even when the dog falls out of a high boat, it is sometimes difficult to get it back in again.
The most important thing to keep in mind is always your own safety.
First, determine the situation, how the water is, whether there is a current, and where there is a place to get your dog out of the water.
You can also ask bystanders for help, and always address a specific person. This works better than addressing an entire group because research has shown that a group is less likely to intervene.
Is there a current? Then make sure that your Frenchie is swimming with the current so that it does not get exhausted by swimming against the current.
Always stay calm.
When you panic, your Frenchie will also become anxious.
Can you reach the dog? Then pull it out of the water by his harness, collar, or neck skin.
If the water is very cold, dry your French bulldog as soon as possible and warm him up, they can't cope with low temperatures for too long.
Conclusion
Can a french bulldog swim? NO French bulldogs, for the most part, CAN'T swim, so always buy a life jacket when taking your Frenchie to the seaside, pool, pond, or anywhere else where there is water.