French Bulldogs are cuddly, adorable, and loyal pets. They love attention and playtime. Playing with your pooch is a great way to connect with them and keep them healthy. Let's check out the 20 best French Bulldog toys that cover all the bases from brain stimulation toys to toys you can make right at home and more!
Why is Playtime Important for Dogs?
Since Frenchies can't exercise a great deal in the outdoors due to health issues, outside activities such as long walks are not always an option. This is where having a variety of the best French Bulldog toys can be beneficial for quality playtime indoors that will allow your Frenchie to get an appropriate amount of activity.
Here are some reasons why playtime is important for your pup.
It keeps them healthy. We know that lying around isn't good for humans and it's also not ideal for our pets. Not only does playtime get your Frenchie moving, but it gets you moving, too.
It helps with behavioral issues. Many times dogs act out by chewing things, being aggressive, and jumping up. While French Bulldogs are typically very well-behaved, dogs who don't let their energy out may express this by showing undesired habits.
It helps with separation anxiety. Some French Bulldogs show separation anxiety and this can be just as unpleasant for their owner as it is for them. Playing with your pup when you're at home helps them feel more calm and relaxed when you leave.
It can help build a strong bond. As you play with your pet, it will relax and feel comfortable. The more at ease your French Bulldog is with you, the more it will trust you. This can lead to a good relationship with a dog who wants to constantly show you love and respect.
20 Best French Bulldog Toys
One thing is for certain: there is no shortage of dog toys out there. There are many different kinds of toys to keep any canine active and happy. Knowing what's out there can help you decide what options may be the best French Bulldog toys perfect for your adorable fur child.
We've divided our list into a few main sections:
Toys that are great for any occassion
Toys for brain stimulation
Toys for puppies
DIY toys
Best French Bulldog Toys: Great for All
Toys great for all dogs include balls, ropes, stuffed toys, chew toys, and bones. The best options will depend on the size of your dog and how powerful their chewing is.
Teeth Cleaning Toy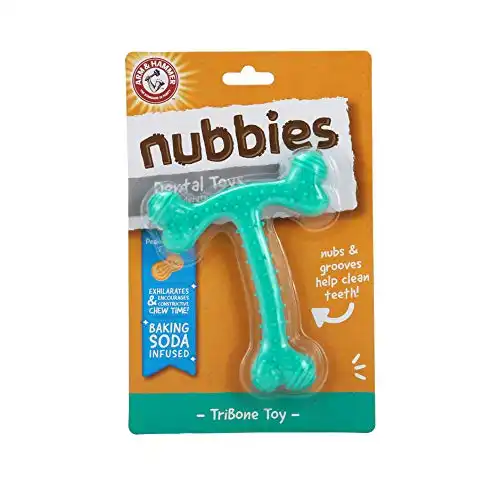 If your Frenchie is like most dogs, it probably doesn't love getting its teeth brushed. Good dental hygiene is crucial to avoid bad breath, tooth loss, oral pain, and dental disease. A teeth cleaning toy can clean your pup's teeth and keep them strong.
The Arm & Hammer T-Bone Dental Chew Toy is made from durable nylon for strong chewers, is infused with baking soda which is safe and gentle, and it's sure to keep your Frenchie busy for a long time.
Plush Toy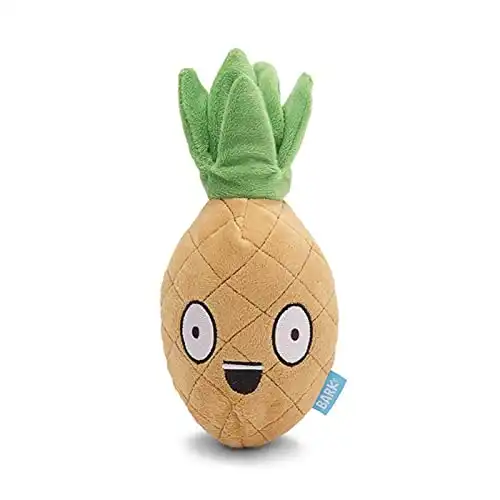 French Bulldogs are known to thrive off of the company of humans. They adore our company and the security we provide them. A soft, plush toy can also provide these feelings of warmth and companionship like a child's blanket.
Penny the Pineapple Plush Toy is the perfect friend for your French Bulldog. The best part that is if your Frenchie has a little too much fun and chews Penny's outer layer, there's a bonus plush toy inside.
Squeak Toy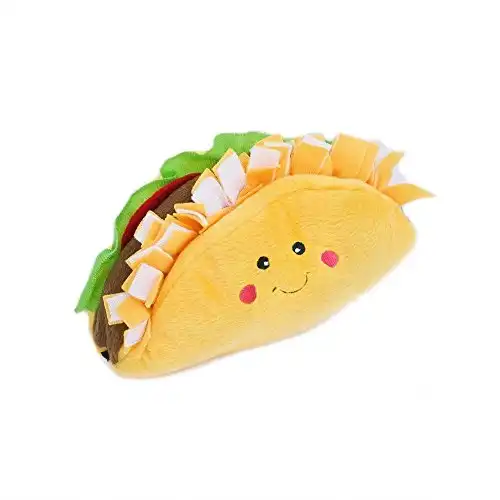 Some people believe squeaky toys can trigger hyperactivity, but we know most dogs love their squeak toys. There's no harm in allowing your Frenchie an extra good time every now and then by allowing them a special play session with their favorite toy.
ZiipyPaws NomNomz Plush Taco Squeaker is perfect for a Taco Tuesday treat. Your Frenchie will look forward to Tuesdays once they're introduced to this mouth-watering, soft, fun toy!
Rope Toy
Rope toys are great because they don't have stuffing that may make a mess and they provide a different, exciting feeling for your French Bulldog's mouth. Rope toys can also clean teeth and massage gums.
The Insoftb Rope Ball Toys Set is made from 100% natural cotton. Not only are these rope toys safe for your beloved Frenchie, but they can also be machine-washed. Your dog will never get bored with this fun rope toy combination. You can play fetch and tug-of-war together or they can simply gnaw.
Bone Chew Toy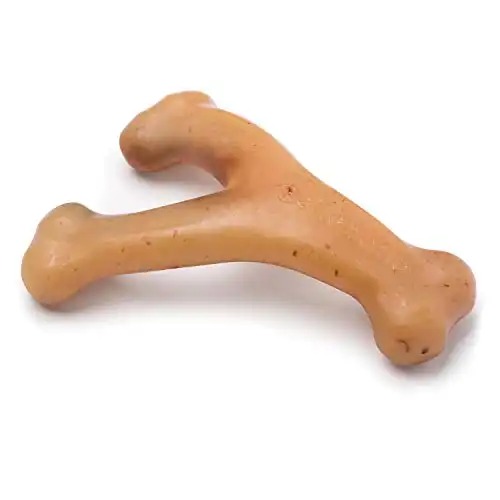 Bone chew toys are great for entertaining your Frenchie for some time and they typically have a tasty flavor.
The Benebone Real Chicken Dog Chew Toy is durable and can last for weeks. It's made with 100% real food ingredients making it a safe and healthy treat for your pup.
Durable Toy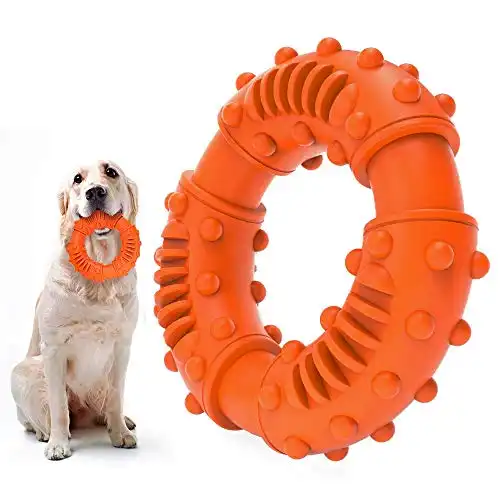 It can be frustrating to have a pet that chews everything that's in sight. But, if we're being honest, dog's have a natural urge to chew and it's up to us to ensure they are doing so properly. Providing your Frenchie the most durable dog toy teaches them healthy chewing habits and saves your human family members' shoes.
ABTOR's Ultra Durable Dog Chew Toy is made with the strongest natural rubber. Its nubs and layered textures make it even more interesting for your dog to chew for a long time. You can stuff this toy with peanut butter before freezing it for increased desire.
Crinkle Paper Stuffingless Toy

Maybe you need a break from finding toy stuffing everywhere or your Frenchie just isn't so interested in stuffed toys. A crinkle paper, stuffingless toy could be just the right fix.
The SPOT Skinneeez Crinklers is definitely one of the best French Bulldog toys out there. The sound of the crinkle paper provides a different stimulation for your dog and the small squeaker is perfect for your pup's liking but not too loud for the humans.
Dog Ball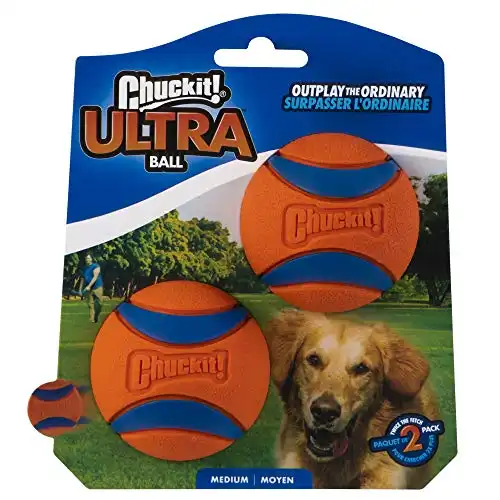 ChuckIt! Ultra Ball, Medium (Pack of 2)
Super High Bounce: Better than standard tennis balls, the...
Tough and Durable: This rugged dog fetch toy has a textured...
Sizing matters: Size medium measures 2.5" in diameter and is...
Buy on Amazon
We earn a commission if you make a purchase, at no additional cost to you.
09/21/2023 09:01 pm GMT
There's a reason that a simple ball is an old-time classic dog toy. French Bulldogs love to fetch, chew, or roll a ball. It can provide hours of playtime.
The Chuckit! Ultra Ball is lightweight and full of bounce. Its thick rubber material makes it durable and long-lasting.
Best French Bulldog Toys for Brain Stimulation
French Bulldogs are curious creatures. Toys for mental stimulation include puzzles and food dispensers. These toys can provide a challenge for your dog and help stimulate their brains when their owner is away or busy.
Interactive Puzzle Toy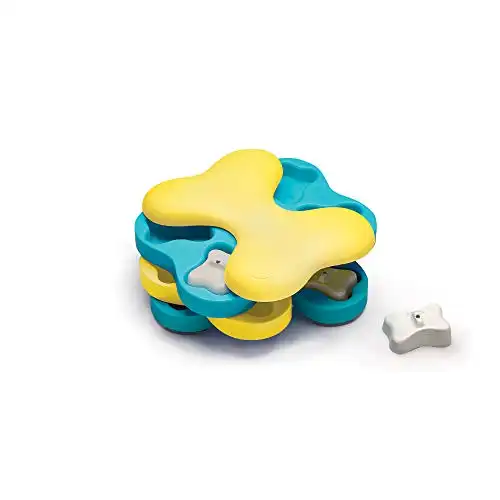 One of the best French Bulldog toys is a puzzle because it can foster critical thinking skills in dogs. Dog puzzles are excellent for preventing boredom and unwanted behaviors.
Exercise your Frenchie's mind with the Outward Hound Interactive Puzzle Game. Twelve compartments for hiding treats or kibble will keep your dog busy and eager to find a tasty snack. Simply place the game on the floor and rally your pup to find its treats.
Treat Ball Toy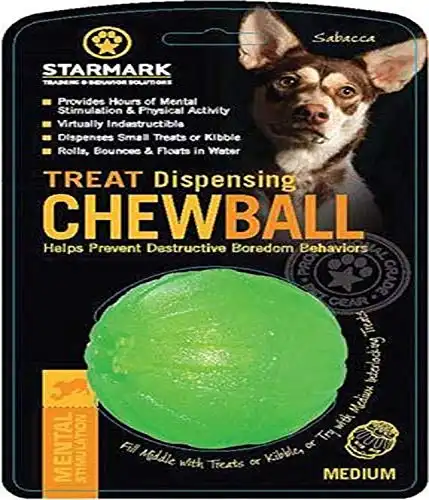 Similar to a puzzle, a treat ball provides your dog a challenge to get its delicious treats out. A treat-dispensing ball provides stimulation for your dog's mind and physical activity as they play with the ball while getting to the prize: treats.
The Starmark Treat Dispensing Chew Ball is tough enough to be played with for hours. It can be filled with treats or dog food and can bounce or roll around.
Treat Dispenser Toy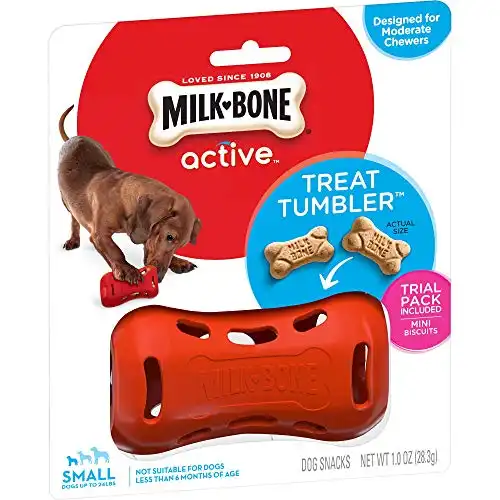 If you prefer to not have a ball rolling around the floor or want to change things up for your pup, there are other options for treat dispenser toys.
Milk-Bone's Interactive Dog Treat Dispenser is an exciting way to extend playtime. It's in the shape of a bone and includes Milk-Bone Mini's biscuits.
KONG Toy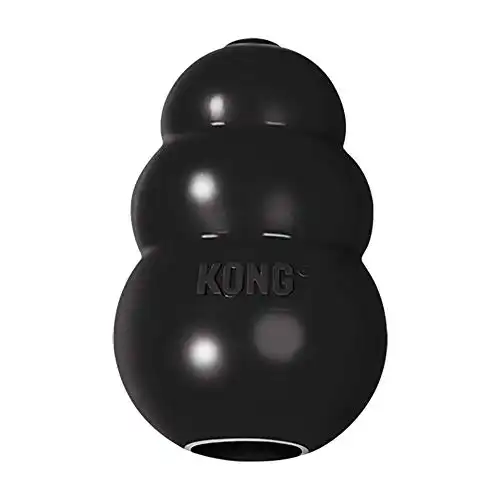 Most dog owners know all about KONG dog toys, popular rubber chew toys. They're durable and interactive.
KONG's Extreme Dog Toy satisfies a dog's instinct to chew, dig, and bark. This five-star toy can bounce, be used for fetch, and is great for stuffing. Need to keep your dog entertained when you have a day of errands or guests coming over? Providing your dog a frozen stuffed KONG is a great way to keep it busy for an extended time.
Best Toys for French Bulldog Puppies
While most of the mentioned toys are excellent for your new Frenchie, keep in mind that a young French Bulldog may need smaller, more durable toys depending on their size and how much they chew.
Teething Toy
One of the best parts of bringing a new furry family member home is buying them fun toys! Keep your new puppy busy and their teeth clean with a special teething toy.
The Jcheupet Puppy Teeth Toys come with 3 fun-colored cotton cloth rope toys to keep your pup busy and happy. They are made of TPR, a safe rubber material, and natural washable cotton cloth.
Small Throwing Ball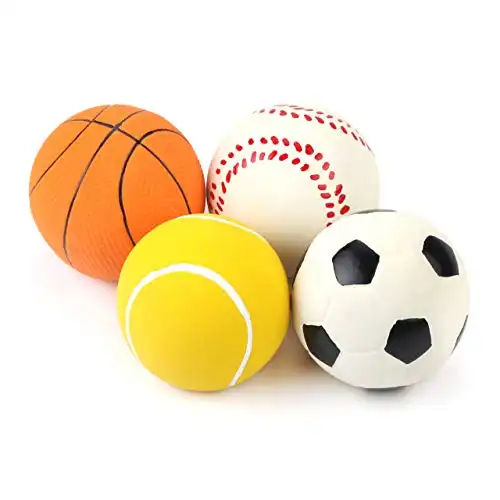 All dogs love a good ball, including puppies. Again, a ball is great for fetching or just rolling around for playtime.
The playful, small balls that come in the Chiwava Squeaky Rubber Toy Ball variety pack are made with non-toxic latex rubber. Your new puppy will be thrilled about these new toys that are squeaky, soft, and bouncy.
Puppy Frizbee
Incorporating a frisbee, or flyer, into your puppy's playtime is an entertaining way to teach fetch. Fetch allows your dog to exercise and burn off calories.
The KONG Puppy Flyer Dog Toy is soft to soothe your dog's teeth and gums. Its small size is perfect for a tiny pup. This flyer toy is a great way to spend some time outdoors as long as you keep in mind that French Bulldogs shouldn't play in very warm temperatures.
Bully Stick
Bully sticks are a great toy and treat for puppies because they're easy to digest, they don't splinter like many other treats, and they can help clean teeth. They also come in a variety of shapes and flavors.
Nature Gnaws Extra Thin Bully Sticks are rawhide-free and made with free-range, grass-fed beef. Chewing on these tasty treats will reduce plaque and tartar build up on your Frenchie puppy's teeth and provide long-lasting stimulation.
Best DIY French Bulldog Toys
If you're looking to get creative or save some money, making toys at home is a great alternative to buying new toys. Some of the best French Bulldog toys can be made right in your home with materials you likely already have on hand.
T-Shirt Tug Toy
French Bulldogs love to gnaw on or play tug-of-war with fabric toys. This is one of the easiest toys you can make for your dog with an old T-Shirt and scissors. Simply cut two long, thin strips of the shirt and layer them on top of each other. Tie a knot in the middle and you've got a quick, easy toy that your Frenchie will love!
Plastic Bottle Toy
Being environmentally-friendly is always a plus and you can do just this by reusing a plastic bottle and old fabric. Wrap and tie old fabric around an empty plastic bottle and watch your dog be thrilled to tug and toss their new toy. The sound of the plastic bottle can provide extra interest and stimulation.
Pupsicles
Your dog will be entertained and full of joy with a tasty frozen treat. Mix 1 part pureed apples with 1 part non-fat, sugar-free Greek yogurt. Fill these fun Dog Paw & Bone Shaped Trays and freeze before serving to your pup.
Frozen Sock Toy
Last up for the best French Bulldog toys is possibly one of the easiest DIY projects of all time. Tie the end of a long sock, soak it in water, then freeze. Your Frenchie will enjoy this unique-feeling chew toy.
Enjoy Playtime!
You and your French Bulldog will never get bored and will definitely live and happy, healthy life with all of these funtastic toys!
Check out this full guide for all the tips and tricks to playing with your French Bulldog.