A question for many pet owners is how often you should wash a dog, and it's a very important one. Baths are a part of life for furry friends, just like for humans.
How often you wash your Frenchie depends primarily on the coat type. You do not have to wash your French Bulldog regularly if it has healthy skin and coat. But daily activity also plays a major role.
Why Wash Your French Bulldog?
The purpose of a wash is to prevent grease and dirt from building up in the fur and to prevent skin pores from becoming clogged.
Of course, regular baths with also give your Frenchie a fresh and shiny coat to keep them looking nice.
While brushing your French bulldog can remove some dirt from the coat, a thorough wash from time to time is necessary for proper coat care.
Be aware that because a dog's skin differs greatly from human skin, you should certainly not use human shampoo to wash your dog. It is important to choose the right shampoo tailored to the type of coat and skin that your dog has. French bulldogs often have dry skin, so it's good to use dog shampoo for dry or sensitive skin.
Brushing Your French Bulldog
Brushing and combing your dog regularly prevents dirt from sticking to the fur. It's important to do this often and to also do it right before a wash.
When brushing, you remove loose hair, dirt, and parasites. Brushing also stimulates proper blood flow. This will help maintain a healthy, shiny coat for your Frenchie. And, of course, the dreaded shedding – Frenchies are fabulous, but they do shed some. Regular brushing can help decrease this.
Make sure you use a brush for short hair dogs since French bulldogs have short, thick, or silky hair.
Does your French bulldog suffer from tangles in his coat? Then, you could use anti-tangling spray during the brushing session. Special tip: brush against the direction of hair growth while spraying some anti-tangling spray over the fur for optimum results.
Regardless of which breed or type of dog, brushing should be done much more often than washing. Both short-haired and long-haired dogs must be brushed from time to time. Really, the more you do it, the better.
Washing Your French Bulldog
Here are a few things to keep in mind when giving your French Bulldog a bath:
How Often to Wash a French Bulldog
If your Frenchie has healthy skin, then a wash 4 times per year is plenty. Too much washing is not good because the skin can become dry and irritated, but a wash every three months is a good number (never less than this).
Bath frequencies also depend on daily activity. Does your Frenchie play outside regularly? If so, you should wash your pup more often. If your dog rolls around in dirt or mud and they've just had a bath, washing them again is perfectly fine.
It is not harmful to wash your dog as much as every few weeks if they need it, but be sure to use a gentle shampoo.
French bulldogs with white or light-colored coats will probably need to be washed more often than darker-colored coats. The choice below is another excellent natural, gentle shampoo.
How to Correctly Wash a French Bulldog
Hop right in a bubble bath with your Frenchie, of course! Okay, just kidding!
After your dog is brushed, set up the bathing area to keep it as comfortable and clean as possible.
A bathtub is typically a good place to bathe your Frenchie. They will fit well in the bathtub, and it's one of the more convenient locations to wash a dog.
Wear comfy and casual clothes, of course.
Have a cup for pouring water onto your dog, shampoo, and a couple of absorbent towels
Fill your bath with lukewarm (not too hot or cold) water just a bit. Think about how you'd like your bath.
When you're ready, bring your pup into the bathroom. Maybe give them a treat to feel a little happier about bathtime.
Put your dog into lukewarm bathwater. Ensure that the water is not too high, of course.
Fully wet your dog, gently pouring water with a cup onto parts that aren't wet yet.
Put some shampoo into your hand and gently rub his fur, massaging shampoo well into the coat, just like your stylist does at the salon.
Let the shampoo work in for a couple of minutes, and then rinse everything thoroughly. Make sure that all remains of the shampoo are washed out and that nothing is left behind. Shampoo residue can cause skin irritation.
Let him shake his coat well. Most dogs will gladly do this. (Good thing you have your casual clothes on!)
Thoroughly dry your freshly washed baby with an absorbent towel or two if needed. While a towel should be just fine, if you'd like to use a hair dryer with no heat, that is okay. Comb while using a hairdryer.
Drying your dog off well is very important. We don't want our fur babies walking around soaking wet and uncomfortable.
Comb your dog using the anti-tangling spray if needed.
Finish off with some leave-in conditioner spray to keep your Frenchie's skin feeling soothed and refreshed.
Fun Fact: Bath Zoomies!
You may notice your Frenchie quickly starts zooming around full of energy after bathtime. It's actually quite funny, but you may wonder why the sudden burst of energy. Well, this is completely normal and actually has a scientific name. FRAPs is frenetic random activity periods. After being contained to a bath, your pup has built up energy to get out, so they may act a little crazy for a bit after bathtime.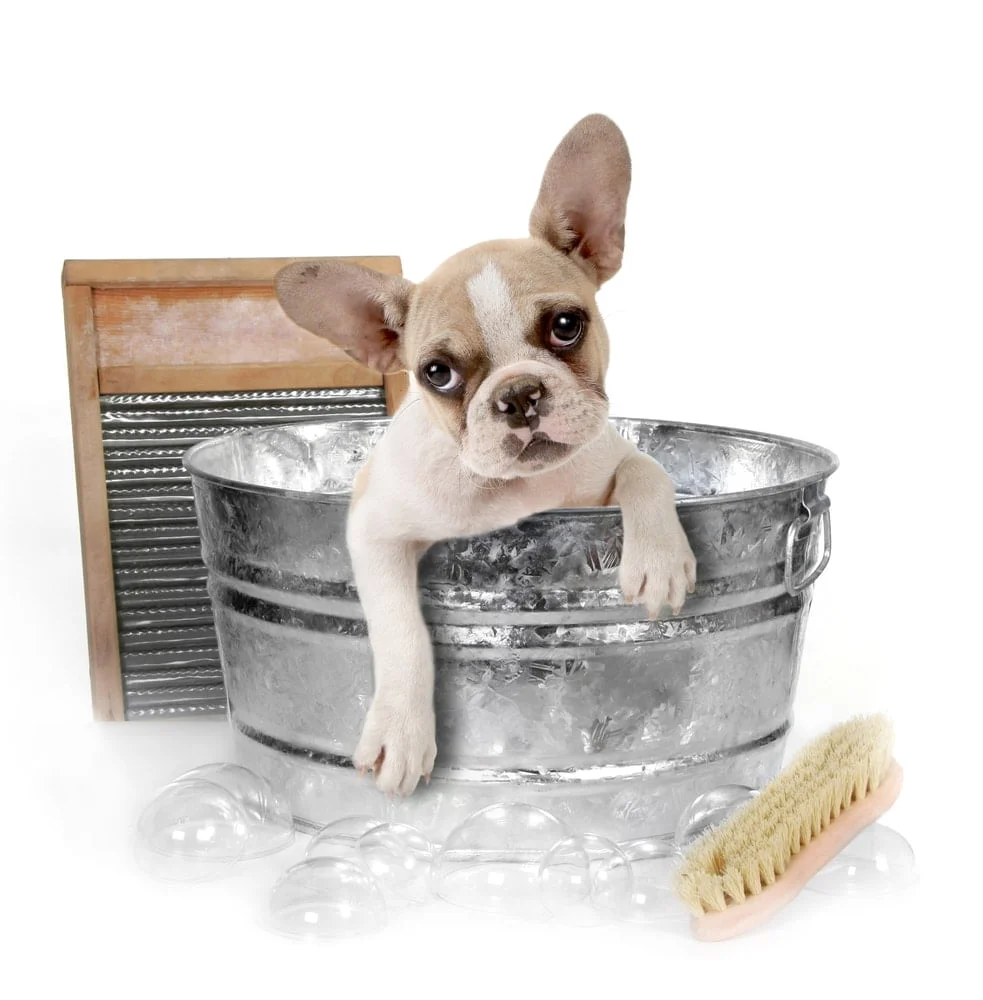 Puppy Bathtime
To get your Frenchie used to bathtime and to ensure healthy skin and coat from the start, begin by bathing your puppy soon after bringing them home. Again, this should be done at least 4 times a year and more if needed.
Use a special puppy shampoo as they are more gentle and tear-free, ensuring that their eyes will not be irritated.
You will follow the same steps for washing a puppy. If you'd prefer, you may wash your puppy in a sink as opposed to the bathtub if they are small enough to fit.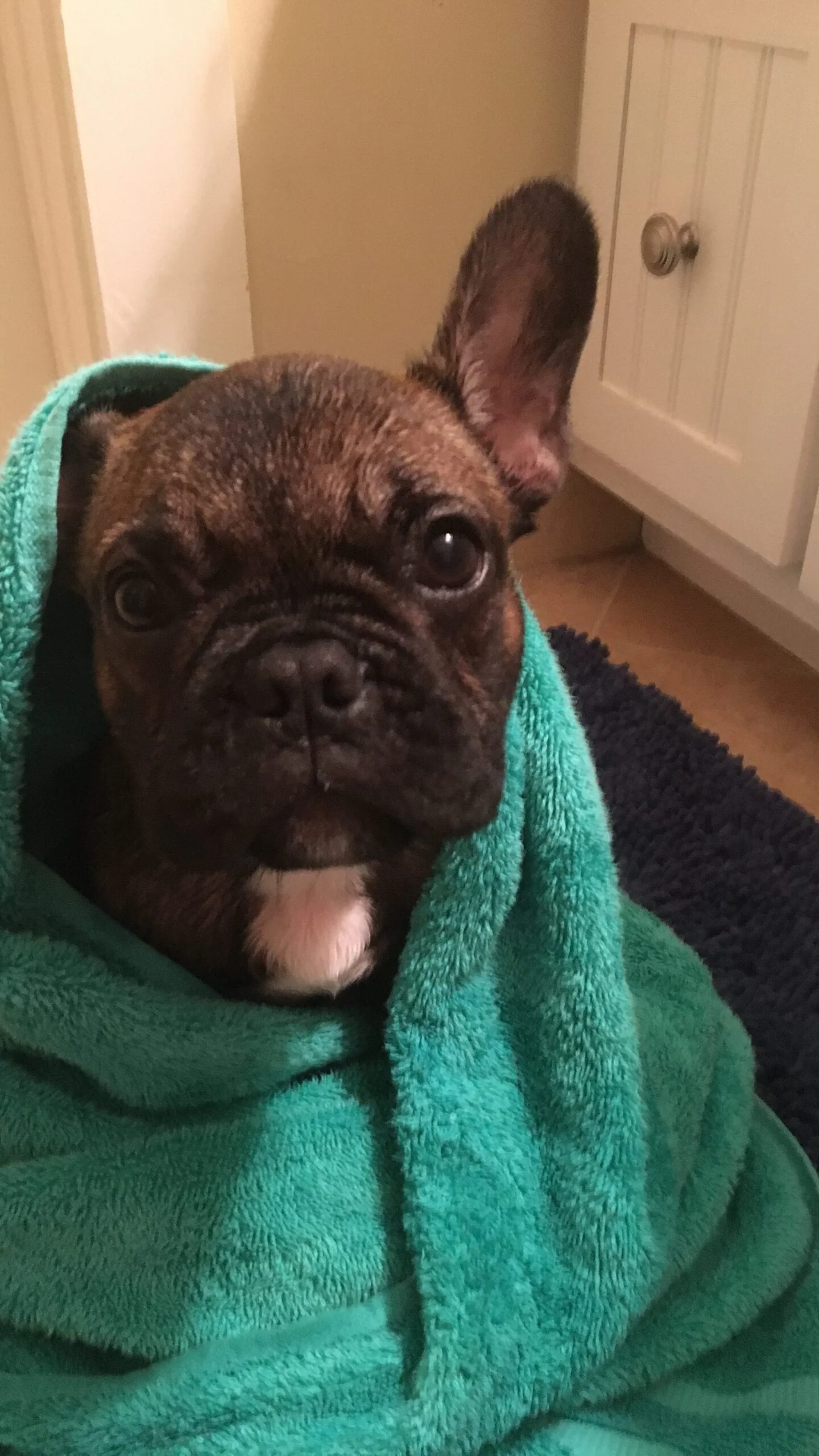 But, My French Bulldog Hates Bathtime
Most people love a nice, warm bath. However, many dogs don't. It can be tricky to wash a dog if your dog hates bathtime. A few tricks can help make bathtime a little less dreadful for your Frenchie.
Bath grip: Put a bath grip down in the tub to prevent them from sliding and to make it more comfortable.
Tire them out: Take your dog on a walk before bath time, so that they have less energy to put up a fight. More on walks here.
Be efficient: If you use the steps above to prepare for bathtime, then the process should be quicker. This means the discomfort of bathtime won't be too long.
Treats: Treats make everything better!
Alternative to a Bath
While baths at least 4 times a year are vital for a dog's healthy skin, this may be all you have time for. Life is busy, and bathing a dog is very time-consuming.
That's where the magical dry shampoo comes into play. Simply massage dry shampoo into your dog's coat. No rinse is needed.
This can be done between baths. A bath with shampoo and water is still needed 4 times a year at a minimum.
Fresh and Clean
There you have it- the scoop on maintaining clean and healthy skin and fur for your Frenchie. When you wash a dog, it very well may feel like a chore. But remember, your furry family member deserves to feel fresh and clean just like you do. It's also a wonderful opportunity to bond with your adorable pup.