If humans love a tasty peanut butter snack, then why wouldn't the furry ones also love it. If you are a Frenchie owner, there's a good chance you are left wondering: can a French Bulldog eat peanut butter.
I think it's safe to say that many dogs wag their tail at the sound of the peanut butter jar opening and the delicious smell that follows. You've maybe even given your dog a small taste and witnessed their pure joy firsthand.
There are several questions when it comes to a dog eating peanut butter: if it's good for dogs, if it's safe, how much is too much, and how to give it to a dog.
---
Is Peanut Butter Healthy?
Peanut butter, a spreadable food made from crushed peanuts, has been a fan-favorite food since they 18th century. You can eat peanut butter in various ways, such as for a topping or made into a peanut butter sauce.
Peanut butter actually has several health benefits. It's incredibly rich in various fats and has a number of good nutrients: Vitamin A, Vitamin B6, Vitamin 12, Vitamin C, Vitamin D, Calcium, Iron, Magnesium, Sodium, Potassium, and Carbohydrates.
Many of the good nutrients in peanut butter provide excellent health benefits such as protecting the heart, managing blood sugar, and helping to maintain a healthy body weight.
Given the delicious taste and that health benefits, it's no wonder people love it and wonder can a French Bulldog eat peanut butter.
---
What About for Dogs?
So, it has health benefits for people, but what about for dogs? Yes, peanut butter is good to give to dogs. The kind of peanut butter, the amount given, and your particular pup are all things to take into consideration when giving your dog peanut butter.
Before getting too excited about providing your beloved furry family member this tasty treat, be sure you know all the details in the answer to your question: can a French Bulldog eat peanut butter.
---
Is All Peanut Butter Safe?
Peanut butter is generally a safe food for dogs, but it's important to be aware of the best ones. The health of our pups is highly dependent upon the food we give them.
Homemade peanut butter is the safest option for dogs. This allows you to control the sugars, sodium, and extra additives.
Unsalted peanut butter is also a very safe and healthy choice for your dog. Keep in mind that the healthiest store-bought peanut butters have a layer of oil on top. This can be messy and make you want to avoid it, but don't because the more oil, the more natural.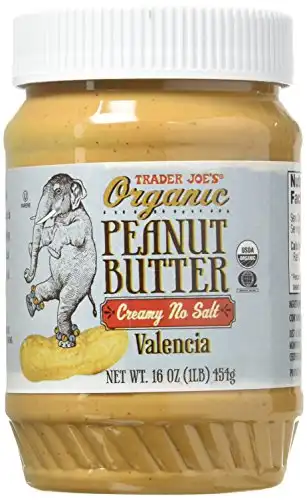 There's a special trick to oily peanut butter. Store the jar upside down and let the oils disperse throughout. This excess oil is a sure way to know that the peanut butter is natural and natural is good. Don't let it scare you off!
While most store-bought peanut butter is safe there's an ingredient to look out for and to avoid at all cost. Manufacturers have started adding Xylitol as a replacement for sugar.
Xylitol is found in many products including chewing gum. While Xylitol is safe for humans, it's very toxic for your dog. Xylitol rapidly releases insulin in dogs which can result in a quick decrease in blood sugar levels, possibly causing death.
Always read the label and if you see Xylitol as an ingredient, do not buy it for your Frenchie.
If you learn that your dog has eaten something that contains Xylitol, immediately contact your vet. This also goes for symptoms of an allergic reaction as some dogs are allergic to foods including peanut butter.
---
How Much is Too Much?
Consider peanut butter as treat and follow the rules of treat quantity. A dog's treat consumption should not be more than 10% of their calorie intake for the day.
For peanut butter, this means a French Bulldog should probably not have more than 1 tablespoon of peanut butter in a day.
---
How Can a French Bulldog Eat Peanut Butter?
There are a few ways to give your dog this tasty treat.
Put it on your finger or a spoon and let your pup lick it off. Many people choose this method when they are already using peanut butter and/or because they can't give their dog much of it anyways.
Place a small amount on top of your Frenchie's food as an added flavor or to encourage them to eat their meal.
Stuff peanut butter into a Kong toy. Keep in mind that you shouldn't be giving your dog too much, but 1 tablespoon should about right since a Frenchie likely has a small Kong. A trick for filling the Kong all the way but not providing too much peanut butter is to also stuff it with a bit of a ripe banana. For a less messy treat, freeze the stuffed Kong before giving it to your dog.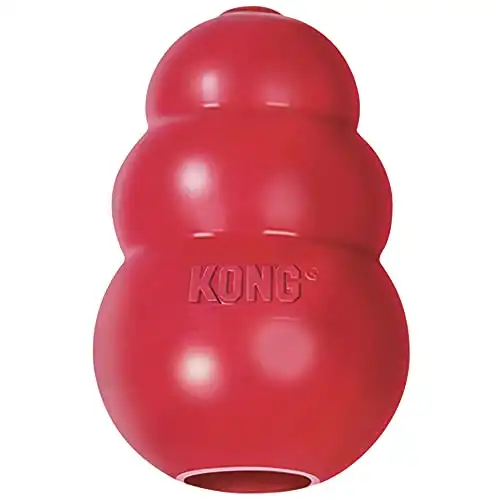 ---
In Conclusion
Can a French Bulldog eat peanut butter? Absolutely!
However, make sure you provide the more healthy peanut butters, avoid Xylitol, and don't give too much.
If your Frenchie loves peanut butter, it also may love to eat apples or cheese. Dogs deserve the occasional special treat just like humans do!