Many dog owners often wonder – to crate train or not to crate train. Crate training your dog can be very useful for you as well as your Frenchie.
You can compare crate training to a cradle for a baby. A dog who has a crate they love is a safe haven for them, just like a cradle is for a baby.
Crate training your dog may or may not be an easy task. Either way, a step-by-step plan can only be helpful. And, if followed, will make the end goal easier to reach.
Why is Crate Training Your Dog a Good Idea?
Many pet parents feel guilty or unsure about crate training, and understandably so. However, crate training is beneficial for your furry family member and can be a great thing.
House Training a Puppy
Puppies can be more easily house-trained if they stay in a crate during times when they aren't able to be taken outside. This is because they are not as likely to soil their "home" as they are to go potty somewhere in your house. Your puppy will learn that their crate is their space and where they will rest, so they will want to wait to use the restroom when they are outside.
Being in a crate also prevents puppies from chewing on things they shouldn't be around your home.
Separation Anxiety
Many dogs suffer from anxiety when left alone. This is not uncommon. While being put in a crate can add to their anxiety or stress, their crate can be helpful if it becomes their safe haven and a spot that makes them feel safe.
Emergency Use
Crate training your dog can lend to be very helpful in case of an emergency. If there is ever a situation where you must evacuate your home or go to a place where a crate is required, having a Frenchie who happily goes into their crate can keep this situation safe and smooth.
Another emergency you could face with your dog is surgery on their part or yours. For their or your recovery, being able to have them in their crate is extremely helpful.
For Convenience
Crate training your dog really helps when it comes to daily life. There are often times when putting your sweet Frenchie away simply makes life easier.
These times may include when guests come over for dinner, when fireworks are happening outside, a friend brings their pet over, you have errands to run, etc. A crate not only relieves stress or anxiety your dog may experience when daily life is altered a bit, but it can also help you.
Senior Dogs
Senior dogs who have been crate-trained will benefit greatly. Older dogs can use their crate as a space to get extra rest. Senior dogs will also like their crate when they no longer have the energy to entertain big groups or children.
The trick to being able to use your dog's crate during these times is that they are properly trained to use it and, more importantly, love it.
Crate Options
Once you decide that crate training your dog is the right move to make, choosing the best crate will depend on several factors.
There are many different crate options depending on your Frenchies size, activity level, and your future plans with the crate. Making sure you select the right crate can make all the difference in creating a comfortable, safe spot for your dog to feel at home.
Size
Crates come in varying sizes, usually about 20 inches to 48 inches. The ideal size of a crate depends on the size of your dog. Most Frenchies are medium-sized, so a medium-sized crate would be good.
The intention is that once your dog is fully grown, they will be able to stretch out and sit up straight in their crate.
Typically, a Frenchie will use a 30" crate because of their height and length once fully grown. Before puppies are full-grown, use the divider panel that comes with the crate to expand the crate size as needed.
Consult with your vet to get the best idea of your dog's full-grown size. When purchasing a crate, look at the size chart to make the best choice.
Crate Types
There are three different types of crates: the wire crate, the fabric travel crate, and the plastic travel crate. They are each different.
Wire crate
A wire crate is the most popular option when crate training your dog.
features of the crate include:
Folds down flat and can easily be moved
Provides a lot of ventilation
Durable and will last a long time
Includes a divider to increase the size available to your pet as they grow
A wire crate is for sale in most pet stores or online, like the New World Folding Crate.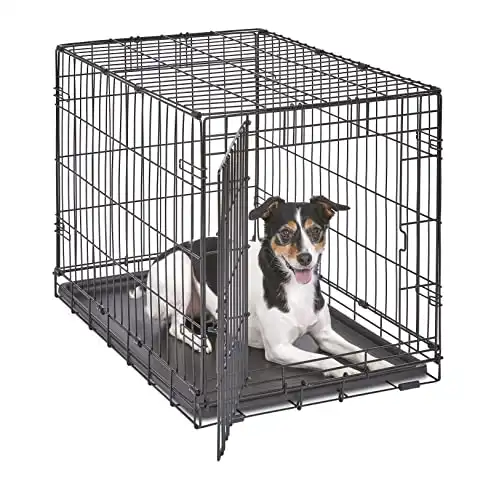 MidWest Homes for Pets Newly Enhanced Single & Double Door New World Dog Crate, Includes Leak-Proof Pan, Floor Protecting Feet
Newly enhanced with added security features to keep your pet safe | Slide-bolt door latch now feature patented Paw Block and locking tips to create a safer, more secure home for your pet
New World single door dog crate measures 30L x 19 x 21 inches and is suitable for medium dog breeds with an adult weight of 25 to 40 pounds. If your dog's weight or measurements are on the higher side for this crate, we recommend buying the next crate size up
Updated locking system, floor protecting roller feet and durable leak-proof plastic pan included. Customer support team based in Indiana
Check Price on Amazon
We earn a commission if you make a purchase, at no additional cost to you.
Fabric Travel Crate
A travel crate is made of fabric and has soft edges and inside, such as the EliteField Folding Crate. It is easy to set up and take with you and is intended for travel as they are lightweight and easy to carry.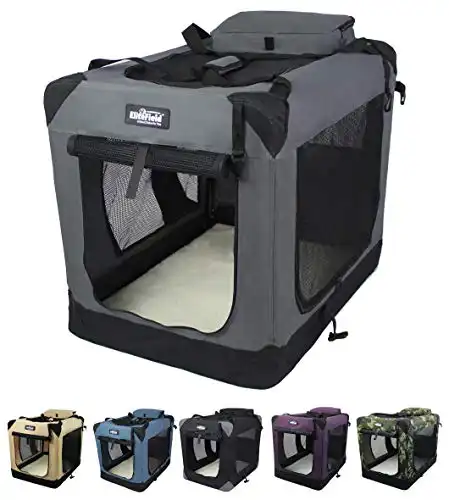 These crates can easily be chewed on, so they may not be suitable for puppies or any Frenchie that has a habit of chewing.
Plastic Travel Crate
A plastic travel crate is more robust than the previous two mentioned. It is made of plastic and is also used for travel since it remains set up and is easy to carry.
This may be a better option than the fabric crate if you need to transport your dog. They are also easy enough to carry, and your Frenchie is not as easily able to chew them.
Some people use these as fixed crates at home, but they are more enclosed than the wire crate. This makes it less desirable for many dogs and owners.
Doggy Playpen
A playpen is a route some pet owners like to take as opposed to or in addition to crate training your dog. A playpen allows your Frenchie more room for walking around and playing.
Playpen Versus Crate
Like a crate, a playpen contains your dog in one space. The biggest difference is their size. You may decide to use one over the other depending on your needs. It's also okay to use both at different times.
Playpens typically come in two different materials: metal and fabric. The metal playpen is similar to a metal crate, only bigger. It's more sturdy, will last a while, and isn't easy for your dog to chew. The fabric playpen is more like a tent; it's less sturdy, could be chewed, and is easy to use for travel.
Playpen Use:
Contain your dog to an area, but give them room to play.
You need to leave your dog for a full day (more than 6-8 hours).
Your dog prefers a larger space.
Crate Use:
Contain your dog to a smaller area (sometimes makes them feel safer).
Sleeptime may go better in a crate.
Transportation to another place.
You will train your dog to happily go into their playpen as you do the crate (treats, slowly increase time, make it a fun space).
Using Crate and Playpen
Again, it is possible to use both in your home, depending on your and your pup's needs and preferences. Having both would allow your pup to have a confined space for sleeping (the crate) and a bigger area for when they are ready to walk around and play (the playpen).
You can choose to set the two up in separate places, using each for different purposes and at different times.
You can also set the two up together where the crate will open into the playpen. This option would be used with a metal playpen. Of course, this setup will require more space.
Preparing the Crate
After you've purchased the crate (or playpen), you want to make the crate a desirable and safe place. You could use the following to do so.
Bed or Crate Pad
A crate pad fits more precisely into a crate than a standard dog bed. It's important to be picky about the crate pad you choose for your dog's crate, especially if they are a puppy. Get one that is sturdy and difficult for them to chew, like this chew-resistant pad. Durable crate pads can be pricey, but it beats buying several fluffy, easy-to-chew ones. I like to buy dog pads that have a zip-off cover, making them easier to wash.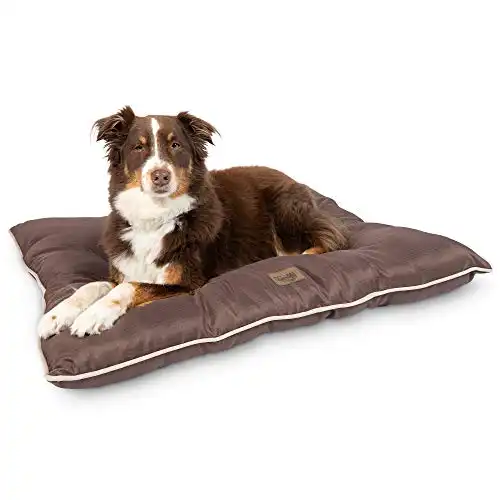 Pet Craft Supply Super Snoozer Calming Indoor / Outdoor All Season Water Resistant Durable Dog Bed
INDOOR OR OUTDOOR USE: UV treated, fade-resistant polyester with a water-resistant finish, wicks water away for longer-lasting use.
SUPPORTIVE & COMFORTABLE: Extra padding provides superior comfort and support, while the durable channeled liner helps keep the polyfill stuffing in place no matter how much your pet moves around. Your dog will love to cuddle up in this dog bed.
PREMIUM QUALITY: This bed is built to last with its durable materials and high-quality construction. This is one tough dog bed.
Check Price on Amazon
We earn a commission if you make a purchase, at no additional cost to you.
Chew Toys
Chewing can be calming for dogs and gives them something to do while they are in their crate. As mentioned before, providing chew toys will also prevent them from chewing their crate pad.
Choosing appropriate toys for your dog is important. Make sure that your Frenchie cannot tear and eat pieces of the chew toy and that it is not too small for them. A chewable stick is a good option.
A good toy and way to take your dog's mind off being alone and/or bored in their crate are to freeze peanut butter or banana (or a mixture of the two!) in a Kong before you are going to leave them. Once it's time to go, give them this yummy treat to occupy some of their time.
Water
If you are going to be gone for a substantial amount of time or it's very warm where you live, water is a good idea to keep in your dog's crate.
If you have a puppy, you should not leave them in their crate for too long and they also are unable to hold their bladder for too long. In this case, refrain from leaving them water.
An option for leaving water in the crate without it becoming a mess is to purchase a snap bowl that easily connects to the side of a wire crate.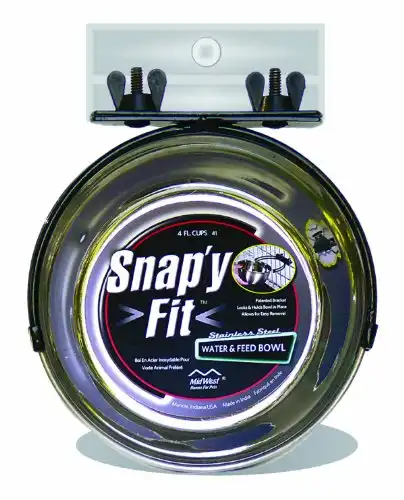 MidWest Homes for Pets Snap'y Fit Stainless Steel Food Bowl / Pet Bowl, 1 qt. for Dogs & Cats
Medium breed dog bowl | Stainless steel 1 qt. (4 cups) dog food / water bowl measures 6L x 6W x 2.75H inches | Ideal for medium dogs & fits standard medium dog crates
Great for dogs w/ messy "table manners" | Dog bowl locks in place to metal mesh unfasten bracket which reduces water & food spilling into living area | Fits ALL standard (wire mesh) metal dog crates
Easy clean pet bowl | Dog bowl holds up to 1 qt. dog food, cat food or water & minimizes clean-up in the dog crate w/ no-tip bracketed design
Check Price on Amazon
Check Price on Chewy
We earn a commission if you make a purchase, at no additional cost to you.
A regular water and food bowl can be left in the playpen if you leave for an extended amount of time. This can be done with adult dogs, not puppies who need to relieve themselves often.
A Possible Step-by-Step Plan for Training
Crate training your dog requires a lot of preparation and training, as you may know now. This is only a guide. You know your Frenchie and your situation best, so always do what works for both of you.
This plan could also be used for a playpen with alterations where needed.
Days 1-4
Set the crate up and keep the door open for several days. Place a couple of toys and treats in the crate. Place their meal in the crate at times. Allow your Frenchie to choose when they are curious enough to go in the crate. Allow them to explore (and find the treats) on their own time. Don't make a big deal of them going into it. Do not shut the door during this time.
Days 5-7:
Once your dog has willingly and comfortably gone into their crate for several days, it's time to try shutting the door. Shut the door for just a moment while they are in the crate. Stay there and open the door right back up. Increase the length of time, but stay in sight.
Days 8-10:
If your dog has responded well to the door closing while you are visible, try closing the door and leaving the room. Start out small and increase the time. Always open the door if they do not respond well.
When your dog is able to stay in the crate while you are not visible, try leaving home for just a short time (or even stepping outside). Increase this over time.
Helping Your Dog Like the Crate
In order to ensure that crate training your dog is successful, you want to help your dog like their crate. To do this, it should be a positive experience for them. There are ways to achieve this.
Make it comfortable with a crate pad.
Give them safe toys to chew on. (big, no small pieces that can come off, no strings)
Give them treats when they go in the crate.
Before you start to use the crate with the door closed, have the door open for some time, allowing them to go in and out as they please and not make a big deal of it.
When you do begin to shut the door, start small by only leaving them in there for a few minutes and slowly increase that time.
Have them go into the crate while you are home so that they don't think it's only for when you leave them.
As mentioned, treats are important for helping your dog feel good about being in the crate. You can use treats to train your dog to go into their crate on their own (eventually). To do this, put a treat into the crate and choose a word you will use, like "kennel" or "crate."
Call them over, and let them see you put the treat in there; when they go in to retrieve it, you will praise them and shut the door. Practice this many times before leaving them alone in their crate. Keep training sessions short and repeat them up to several times a day.
Tire your dog out by playing with it or walking it before putting them in the crate to help them reach calmness and possibly a level of tiredness that will help them sleep.
Length of Time in Crate
Once you have trained your dog to freely go into the crate, it is time to try leaving them in the crate for an extended period of time.
When you first leave your Frenchie alone in the shut crate, leave home for just a couple of minutes. You can simply go outside your front door to do this. When you return, give a treat and lots of praise.
Slowly increase the time they are left in there while you are gone.
Puppies should not stay in the crate for more than a couple of hours because they will not have access to water and also use the bathroom more frequently. It's important that your pup not be forced to use the bathroom in their crate.
Once your puppy is older, approximately 6 months, they can stay in the crate for several hours. All dogs are different, and as a pet parent, you should be able to determine how often your dog needs to use the bathroom.
It's important not to have the mindset, oh, it can hold it since we know people are uncomfortable and sometimes have health issues when 'holding' their bladder.
If you need to be gone for a full workday, come home on a break, or have a dog sitter let your Frenchie relieve itself at a minimum. Or, you can use the playpen at this time if you have one and your dog is older.
What to do if Your French Bulldog Whines in the Crate
No one ever said crate training your dog would be fun. There is a very good chance that your Frenchie will whine in the crate.
If this happens, you should let your dog out. Maybe you could go on a walk, play together for a bit, or give them a potty break. Then, try again.
If your dog is whining and you need it to stay in the crate because you are leaving, that's okay. Otherwise, try to get them to go in peacefully (using treats and toys).
Options to Distract or Make Crate Time Easier
Things you can try if your Frenchie is simply not having it in the crate:
A crate cover and/or background music can offer security and/or block out distractions.
Provide different or new toys that may pique their interest and distract your dog.
Place the crate in a new location, near you or away from you depending on what your dog's needs may be.
Spend time with your dog when they are in the crate so that they aren't relating crate time to you always leaving them.
Handling Pee or Poop in the Crate
The idea, and usually the case, is that your Frenchie will keep their 'safe haven' clean.
If your dog does use the bathroom in their crate, there is likely an issue you resolve.
Make their space smaller using the divider that comes with the crate.
Use a special cleaner to rid of the smell since dogs often remark the same spots.
Give them time to relieve themselves outside right before they go into the crate.
Leave them in the crate for a shorter time.
Is it Worth It?
Most would say yes!
Crate training your dog can seem like a lot of work, but all good things do, right? While it takes time and patience, having a Frenchie that can successfully use a crate can really come in handy.
Using the many possible tricks for making the crate a positive space, there's a high chance of success. If it simply isn't working, separation anxiety is likely the issue, and there are ways to fix this. As always, your vet can help.
Not only can crate training your dog help you as a dog parent, but it also helps your Frenchie in many ways when it comes to their happiness and safety.