The use of a harness instead of a collar and leash has become very popular in recent years.
So why is a harness the best option when it comes to walking and training your French Bulldog?
How do you use a harness?
Which potential health problems of the French Bulldog make using a harness safer for your dog than using a traditional collar and leash?
This article will answer all these questions and more.
I have also discussed some of the best-selling dog harnesses for the French Bulldog breed that are available on the market.
So let's see why people turn to harnesses instead of using the traditional collar and leash for walking their dog.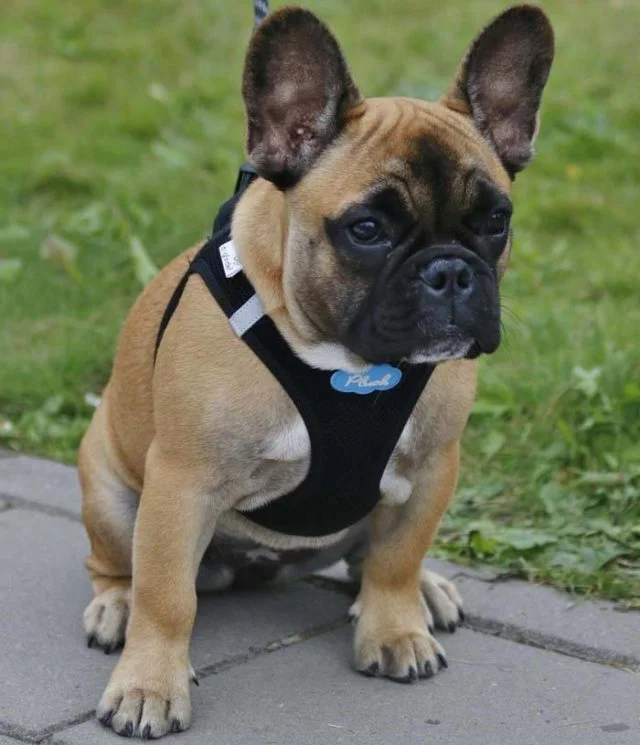 Why use a French Bulldog harness?
Although they are relatively small in size, French Bulldogs are lively creatures.
That can mean that your puppy pulls and jumps when he takes a walk.
A French Bulldog harness is an excellent training tool, giving you much more control over your dog and allowing you to teach him to walk obediently close to you without hurting or tormenting him.
Dogs that pull while wearing a collar and leash can suffer a painful neck injury and other health problems due to the immense pressure that can be exerted by the collar on their windpipe.
In contrast, a harness puts very little pressure on the dog's neck, significantly reducing the risk of injury.
How can a collar injure the neck of your French Bulldog?
Before you understand why putting on his collar can be so dangerous for your French Bulldog, you need to know more about how his neck works.
The windpipe of the dog is at the front of his neck.
It leads to the dog's lungs so that he can breathe.
The trachea is supported by cartilage rings, a soft, flexible substance that holds the trachea open and prevents it from collapsing.
Just behind the windpipe is the esophagus, the tube that brings food into the stomach of the dog.
French Bulldog harness or collar?
So you can see that if your dog presses very hard against the collar, the pressure exerted on his neck causes his trachea to be crushed.
In this situation, the trachea may collapse, which may prevent the dog from breathing or at least cause unpleasant coughing.
Tracheal injuries caused by crushing are very painful for your Frenchie, and some can even lead to surgery.
For comparison: a French Bulldog harness is made to fit precisely around the dog's shoulders, upper back, and chest.
These areas are bony and muscular and easily release all tension from the dog's neck if he pulls or jumps while walking.
In addition to the potential for tracheal collapse, French Bulldogs are susceptible to breathing problems because of the way their nose is shaped.
Breathing Problems with French Bulldogs
French Bulldogs are one of a number of breeds that are classified as brachycephalic.
Brachycephalic varieties often suffer from compromised breathing.
These breeds have characteristic flat faces that can disrupt the dog's ability to absorb oxygen in three ways:
The dog's nostrils are narrowed and narrowed.

The soft palate hangs down, partially or completely blocking the airway.

The airway has become smaller.
So you can see how pulling a collar could aggravate the problems of a brachycephalic puppy!
Spinal cord problems in dogs with a screw tail
French Bulldogs are one of the few breeds with naturally curled tails.
But did you know that a dog with a screw tail can suffer from a condition called hemivertebrae?
Hemivertebrae causes spinal compression, making the dog's hind legs weak.
He may also develop a condition called scoliosis or curvature of the spine.
Back pain is common in puppies with a screw tail, and the added pressure that pulls on a leash can be placed on the dog's neck and the spine will exacerbate these complications.
A French Bulldog harness puts no direct pressure on the dog's neck and spine, so your puppy will be less likely to hurt himself if he does pull.
Best harness for French Bulldogs
There are two main designs of harnesses that are suitable for a French Bulldog.
Let us look at each in detail.
Padded carrying strap
Carrying harnesses are fully adjustable with buckles on the sides and upper back.
Nylon webbing straps are the most popular because they are easy to clean, durable, weather-resistant, and lightweight.
The dog's harness is designed to prevent the pulling force from passing into your pet's neck by distributing it evenly across his body.
If your Frenchie gets excessively excited when walking while wearing this harness, you can be confident that he can still jump and play safely without injuring himself.
The Embark Active Dog Harness is a brilliant example of a padded dog harness that would be perfect for your French Bulldog.
This rugged harness is durable and lightweight and is made of washable nylon without studs, with non-slip padding to keep your puppy or adult Frenchie comfortable.
To adjust the harness, simply adjust the neck and chest, then slip it over your dog's head.
There are two attachment points for the leash.
The front attachment point is designed to be used as a training aid for your French Bulldog.
The attachment point on the back is designed for daily use.
Next up is the URPOWER.
The URPOWER dog harness comes as a French Bulldog harness and lead set.
The harness is made of heavy-duty blue denim fabric and red nylon, making it durable and long-lasting but also very nice to look at.
There are no hard edges or sharp buckles that can scour or irritate your dog's skin.
The harness also reduces chafing.
This harness is fully adjustable for the perfect fit.
Wrap harnesses
Wrap harnesses come in many different colors and designs and are very popular for smaller breeds, such as French Bulldogs.
With these harnesses, a dog leash can be attached to the D-ring or tissue connector on the upper back of the harness.
The harness is fastened via a quick release on the back.
The RABBITGOO No Pull Dog Harness is an extremely well-designed wrap-around wrap-up suit that is one of Amazon's bestsellers.
The harness has a simple/easy design, so you can let your puppy walk in seconds.
You can tailor a perfect fit for your Frenchie with the help of the adjustable slide belts.
The harness is cleverly designed to distribute the dog's weight evenly over his body, thereby preventing pressure on the neck and suffocation.
The attachment points for the line are made of sturdy stainless steel.
One attachment point to the chest is used to train your dog to walk close to your leg.
The other is attached to the back of the harness for daily walking.
Soft, breathable material and heavy padding keep your dog comfortable while walking.
You can also wash the harness if it gets dirty during muddy walks.
Another vest-style harness that I really like is the Voyager all-weather cordless harness.
The Voyager is designed so your pet can easily step in without making any adjustments that may be unpleasant for some dogs.
The harness is made of breathable mesh fabric and has a double Velcro closure with sturdy D-rings for secure line attachment.
The only real disadvantage of the Voyager is that it is not adjustable.
Be sure to measure your French Bulldog carefully, using the manufacturer's guidelines for making a purchase.
The Voyager mesh vest-harness is available in a wide range of bright colors, perfect for the French Bulldog who fancy the dog park or a walk through the city!
French Bulldog harness size
It is important that the harness of your French Bulldog fits him well and that you choose the right size.
If the harness is too loose, it can rub its skin and hurt it.
A loose harness can also get stuck around low branches or undergrowth, potentially causing injury to your dog.
A harness that is too tight could limit your French Bulldog, leaving painful pressure marks and pinches in his skin.
How to fit a French Bulldog harness
Most manufacturers of good quality dog harnesses offer a suitable manual so that you can choose the right size for your pet.
PRO TIP: look through the Amazon review section to see how it fits and if it is true to size.
Measure your dog around his chest using a flexible tape measure:
Begin at the base of the rib cage

Take the tape over the back of your pet

Bring it back to where you started
Then measure your dog's neck with the tape measure around the thickest part where you will wrap the harness.
This is exactly where the neck meets the shoulders.
Alternative measurement
Another way to measure a French Bulldog's armor is by weight.
Just let your dog sit/stand on your scale to see its weight and choose a harness that fits his weight.
If your puppy does not stay still, stop by your vet and ask them to weigh your dog for you.
If you choose the best harness for French Bulldog puppies, remember that they will constantly grow.
Choose a harness for a French Bulldog puppy that is fully adjustable.
And review your puppy every few weeks to make sure that the harness still fits him well.
But you still need a collar
You should know that you still need a collar for your French Bulldog, just don't use it to take him on a walk with a leash attached to it.
The collar should wear an ID tag, including your pet's name and contact information. As seen in the picture above of my dog Charlie as a puppy.
Conclusion: Choose the best French Bulldog puppy and adult harness
A harness can prevent your French Bulldog from experiencing discomfort.
It will also save him from potential health problems that sometimes accompany a traditional collar and leash.
We have described two types of harnesses here: padded belts and wrap harnesses.
Both allow your French Bulldog to move easily while its neck remains protected from injury.
When choosing the best dog harness for French Bulldogs, you must measure your pet correctly so the harness fits properly. This way, you ensure your walks with him are as pleasant and comfortable as possible. Have fun walking your Frenchie.