If you're on the hunt for the best French Bulldog bed, you are in the right place! There are so many options out there that it can be hard to decide which bed is right for your pet.
Many dogs, especially most laid back Frenchies, sleep for more hours of the day than not. And, if they aren't sleeping, they're lying down relaxing. As loving dog parents, we want our pets to live in comfort; therefore, a quality bed is crucial.
Happy French Bulldog is here to share important tips and tricks for you and your French Bulldog and that includes the best French Bulldog bed.
While there are tons of beds out there, there are 3 fantastic ones worth mentioning along with how to go about buying the best dog bed possible for your beloved pup because they deserve a good night's rest every night!
---
Best French Bulldog Beds
There are so many options out there to use as a quality French Bulldog bed. It could take hours or days to research and make a decision. The work has been done for you below with 3 beds well worth a mention, each with specific special features that any dog is sure to love.
Dreamcatcher Sofa: Best French Bulldog Bed in Looks and Luxury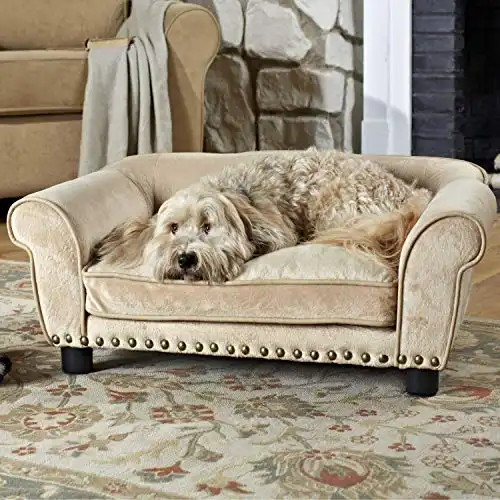 For a touch of elegance and loads of comfort, the Dreamcatcher Sofa dog bed is a caramel-colored sofa dog bed designed to look like a couch you may find in your living room, except is smaller in size perfect for your French Bulldog and any dog up to 30 pounds.
The Dreamcatcher Sofa is made out of a strong wood frame and is fully upholstered with a microfiber fabric and it's wood feet lift the couch off the ground.
The zippered cushion cover is removable for washing and can be easily wiped down to keep a clean look and help maintain it's nice appearance.
A quick breakdown:
Strong furniture-grade construction
Cushion provides warmth and comfort
Zippered cushion cover: machine washable
For pets up to 30 lbs
Size: 33.5" x 21" x 12.5"
Pros:
Modern style
Easy to clean
Cozy
Good quality
Cons:
Not for larger dogs
Cushion needs to be broken in for complete comfort
2. Joyelf Memory Foam Bed: Best French Bulldog Bed in Comfort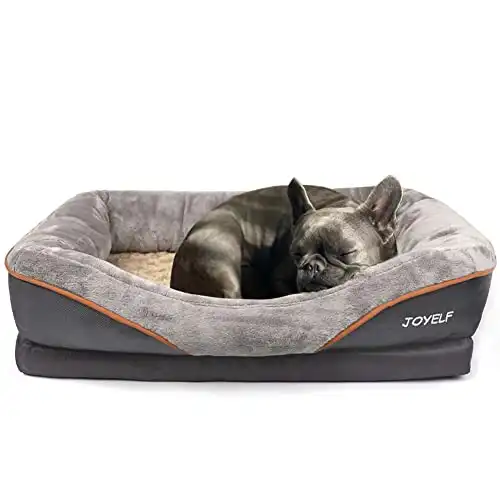 There are raving reviews when it comes to the comfort of this 3-inch memory foam dog bed. The material of memory foam is so soft and warm that it provides an extra coziness. Memory foam is a material that returns to its original state after it has been compressed so even after your Frenchie has slept in its bed all night, the material fluffs back up to its original state.
With the level of comfort this bed provides, it's no wonder so many dog parents claim its a top-notch French Bulldog dog bed. This bed provides such excellent support, it's the perfect bed if your Frenchie suffers from any neck or back pain, or has joint or bone issues including arthritis.
There is a hidden zipper under the bolster on all 4 sides so you can release and take off the bolster to wash it and the bottom of the bed is lined to prevent the bed from sliding around.
A quick breakdown:
High-quality materials
Nonslip bottom and machine washable cover
3-inch memory foam
Beds vary in size
Pros:
Offers excellent support
Easy to clean
Affordable
Comfortable
Purchase includes a small dog toy
Cons:
Not durable if you have a heavy chewer or digger
Mention of a strong smell when unpacking
3. Orthopedic K&H Bolster Bed: Best Orthopedic French Bulldog Bed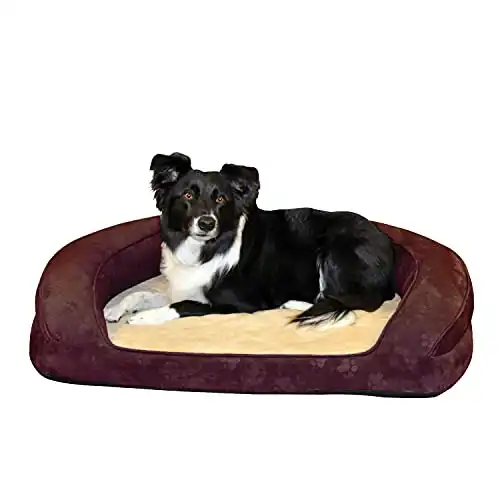 The Orthopedic K&H Bolster Bed is plush and a comfortable dog bed filled with a 3″ medical grade orthopedic foam. It's covered with a velvety-smooth cover made from upholstery-grade velvet, which can be removed for easy washing. The sleeping surface is a super-soft micro-fleece. The bolsters are extra thick and wide, making a perfect headrest.
An orthopedic dog bed is made from specially selected materials making them an excellent option to make sure your dog can comfortably rest. Playtime with your dog and walks on a nice day can burden your Frenchie's joints and muscles. Having an orthopedic bed will allow your dog to come and properly rest its body.
Even if you're dog is not experiencing any joint problems, an orthopedic dog bed can actually help prevent these issues later in life. These cushions allow the spine of a dog to stay completely straight which can prevent a lot of old-age ailments.
A quick breakdown:
Plush medical grade orthopedic foam
Overfilled bolsters surrounding bed provide comfort
Removable and washable cover
Size is 35" x 25" x 9"
Pros:
Use of recycled materials
Sturdy
Excellent quality
Large headrest
Easy to take cover on and off for washing
Thick foam
Cons:
Not durable if you have a heavy chewer or digger
More pricey than other beds
---
A Buyers' Guide to Buying the Best French Bulldog Bed
As we all know, proper rest is essential for a good quality of life. A key factor in achieving this is having a comfortable place to sleep and lounge. It is important to know the specific needs of your Frenchie before you choose a bed for it and how to ensure your dog uses their new bed in a way that provides proper rest.
There are some common questions and points to be addressed when it comes to buying the best French Bulldog bed.
How much does the bed size matter?
When it comes to beds, small and large dogs are very different in that small dogs can adapt well to most bed sizes. Whereas a larger dog needs a bed that fits their weight, so the mattress and filling must also be of better quality. Most dog beds can work just fine as a proper French Bulldog bed since the average French Bulldog weight is typically under 30 pounds. You want your dog to be able to stretch all the way out on their bed if they so choose, so the length should be comparable to the length of your dog.
Does the shape matter?
The best French Bulldog bed has a shape that works with the way that your dog sleeps. Dog beds have a variety of shapes.
Basic mattresses: A mattress can also be square or rectangle and is available in various sizes. They can be thicker or thinner. These are suitable for dogs with restricted mobility.
Nest bed: These are mattresses but with raised edges. This allows a dog to feel secure and protected and has the ability to support its head.
Hammocks: There are dog hammocks made with PVC and sometimes with holes, which are ideal for warm weather.
Igloo: These are beds that are closed at the top and offer some privacy to the dog. Igloos are recommended for cold temperatures, where the dog needs shelter. Normally they are only for small dogs, so they're perfect for French Bulldogs.
Sofa style: As the name suggests, they are a much smaller version of sofas that people use, which makes them cozy. They have eggs that support the head but have an open area on one side like a sofa.
Plastic beds: They may seem uncomfortable, but they are ideal for female dogs that are about to give birth. These can also be a good option for an old or sick dog.
Can my French Bulldog just sleep in my bed?
Of course, it's possible for your dog to sleep in your bed with you. Frenchies are typically calm and relaxed dogs; therefore, they often sleep a lot. This, in addition to their small size, makes them a perfect breed to sleep in your bed at night if you so choose. Parents know best!
Keep in mind that once you start allowing your dog to sleep in bed with you, this is a habit that's very difficult to break if you ever change your mind due to a change in preference or situation.
To avoid having a dog that always sleeps in your bed, it's best to have a bed that's specifically for your dog and only allow them in bed with you when you invite them. It also isn't a bad idea to provide your dog with a space of their own.
Is it good to put the dog bed next to my own bed?
Having a dog bed next to your bed is an alternative to having it sleep in bed with you and can also provide comfort for you and for your Frenchie.
However, keep in mind that a French Bulldog can suffer from flatulence, snoring, or have a habit of getting up at night to drink or eat. And all of these habits can have a negative impact on your own sleep, so you shouldn't let him sleep in your bed or room if you know any of these incidents could often occur.
What is the best place in the house for the dog bed?
It's important to carefully consider the most suitable and comfortable sleeping place for your four-legged child. The most ideal place is one that would not cause a disturbance to your own night's sleep. Picking a location that works best and being consistent with it is the best option for training to be comfortable with its sleeping quarters.
If it doesn't work for you to have your Frenchie sleep in the room with you, the kitchen or living room is often the best option. These places usually have a constant temperature, which you want for you Frenchie, as opposed to a space near a door (a mudroom) or outside.
Can my dog sleep in a crate?
Having your dog sleep in a crate is certainly an option. This can be the best option for many Frenchies and their owner! While crate training can take some time and effort, it can be well worth it.
Crates can be great for house training a dog and providing it with a sense of security. Many dogs prefer to sleep in their crate. While some dog beds don't fit properly in a crate, you can certainly find a French Bulldog bed or a cushiony, cozy crate pad which will work wonderfully in a crate.
You can also have a crate that your dog uses when you are not home and as they please, but also a bed outside of the crate if you want to offer your Frenchie a more fluffy bed at bedtime that won't fit in the crate.
I have a small house/apartment, where should my dog sleep?
Even if you have a small living space, it is good to create a designated place for your dog's bed and toys. No matter how loyal dogs are, they also need their privacy and there are times when they want to isolate themselves without being disturbed. Since Frenchies are small a French Bulldog bed should be able to easily fit into a corner of a room.
Keep in mind that the place you choose from the beginning should remain since dogs are creatures of habit; therefore. Since your dog's resting spot is permanent, choose a place that your Frenchie seems secure with but that is also comfortable and practical for you. If you find that the spot isn't working or that you want to make a space elsewhere, this is okay but it will take some getting used to for your dog.
Should I choose an orthopedic bed?
There are special orthopedic beds that are made of viscoelastic, memory foam that forms to a dog's body and distributes their weight properly. These are great for older dogs or dogs with rheumatic diseases of the joints, bones, or spine. Even if your Frenchie is perfectly healthy, a true orthopedic bed can prevent these issues later in life and they are the most comfortable bed option out there.
Many pet owners love the Orthopedic K&H Bolster Bed (see # 3 under 'Top 3 Dog Beds for a Frenchie' above).
The only downside to orthopedic beds is that they are more pricey than most other dog beds, but they are truly an excellent option for a French Bulldog bed so the price is worth it.
What do my French Bulldog's sleeping habits mean?
It is important to know how your dog sleeps, because that can give you important hints including if its a healthy and happy dog.
Dogs have the habit of rolling up during their sleep to stay warm and feel safe. If you see them making unwanted movements, it is because they are dreaming. Usually, they twitch their legs or their face when dreaming and this is completely normal.
If your dog often sleeps extensively, it means that he is warm or that he feels very safe and that is a great thing!
If you notice that your dog is very hesitant before going to bed or runs around and appears to be avoiding lying down, it may be that his joints are bothering him and it is uncomfortable or painful for him to lie down.
If your dog seems to have issues lying down for rest time or sleeping, consider trying a new bed or joint supplements. If the issue persists, contact your vet.
Is it normal for my dog to sleep so much?
Probably! Young dogs sleep 90% of the day, although at different times and irregularly. As they grow up, they can adapt to the sleeping habits of their owners. An adult dog sleeps around 12 – 14 hours per day, which usually consists of small naps during the day and around 8 or 9 hours at night.
Dogs must remain active even when they are adults. If he sleeps more than usual, he may be bored.
If you think your dog is sleeping abnormally or you notice that he does not want to move all day, consult your vet.
How can I teach my French Bulldog to sleep in his bed?
As with any habit or behavior you want to see from your dog, you likely need to spend some time training it. If you've just brought your dog home and you notice that he is anxious, you can let him sleep with you for the first few days to provide comfort in its new environment. You should only do this for a short time and slowly encourage it to sleep in the desired place.
If you want your Frenchie to use its bed, it is a lot easier if the bed is very comfortable. You can take him to his bed with a reward so that your dog will associate this with his sleeping space. You can also settle in next to the bed for a few moments while they get comfortable.
A crate is also a good option for sleeping. Oftentimes, a dog that's properly trained to like and use their crate will feel safe and secure sleeping in their crate as opposed to a bed on the floor.
Never drag your dog to its bed or force it to use it. This will result in a negative experience and prevent your dog from feeling comfortable with it.
What should I do if my French Bulldog destroys his bed?
It is possible that your Frenchie is playful or nervous and destroys all the beds that you buy for him, which of course costs money. It is normal for dogs to bite things: it strengthens their jaws and teeth and prevents tartar. That is why it is advisable to give him toys that he can chew or bite instead.
In addition, if you are there when he bites his bed, you must discipline him by firmly saying "no" when he starts biting, and remove his bed. You can read more about teaching basic commands to get desired behaviors here. You can later give the bed back and if your dog starts to bite at or chew it again, repeat the command reward when you see the wanted behavior (or lack of undesired behavior).
You can also buy an anti-chew spray to spray on the bed to prevent your dog from chewing it.
What material is best?
The weather is one of the most important aspects that must be taken into account when choosing a bed. There are very warm materials to warm up and protect the animal against low temperatures and there are materials that can help your Frenchie cool down in warm weather. The French Bulldog bed material should be chosen depending on your specific situation.
Which bed will provide the most warmth?
Dogs love to warm up in the winter, so beds with raised edges and a soft, thick cushion will provide the most warmth. This is especially important if you live in a very cold place. If you live somewhere with a proper summer and winter, you may need to have a summer and winter bed for your dog.
What is the best padding/stuffing?
To maximize the comfort of your dog, look for a bed with the right one amount of stuffing. Dogs have several bony protrusions that could cause pressure points outside of the elbows, shoulders, and hips. Properly upholstered surfaces can prevent this, provide significant relief, and comfortable rest.
Pay attention to the padding material rather than just the thickness. For example, two inches of high-quality memory foam on the bottom of a bed probably offers a more comfortable surface than four inches of cheap material, such as loose foam or polyester filling. A general rule is that if you can easily pinch the padding and feel your fingers, it might not provide your pet with proper support.
Is a removable cover necessary?
Many would say most definitely! You likely want your French Bulldog bed to last for some time, but it will definitely need to be cleaned occasionally. Ideally, you should be able to remove the cover and throw it in the washing machine. This is especially important with puppies or with pets with skin or urine problems who may need their cover washed often.
Can my dog sleep outside?
There are several reasons why your French Bulldog should not sleep outside.
For starters, if you live somewhere with very cold or very hot weather, it's a definite no. In addition to changing weather, other factors that occur when a dog is left outside can cause health issues including poisonous plants, deadly pesticides, and emotional health or behavior problems such as aggression and fear.
Dogs have become domesticated and are herd animals. They prefer and thrive off of being in the vicinity of their family.
It's highly unlikely that your dog will be happy or comfortable sleeping outside. If you don't like having your Frenchie indoors or feel that you can't for whatever reason, it may be best to not get one at this time.
Remember, French Bulldogs are small dogs that don't take up much space so you should be able to find a spot for their small-sized bed.
---
Sleep Tight!
Just as it is important for you to have a nice bed to sleep in after a long day of work or other activities, a French Bulldog bed should also be of great quality for your dog to have a good night's rest. A comfortable bed will allow your Frenchie to have a good night's sleep and it can provide the necessary support for their body.
Dog beds are available in a wide variety of fabrics, sizes, and stuffing materials to meet the needs of every dog. Choose the right bed for your French Bulldog so that he can rest and sleep in his safe and secure own place.